Leading Welsh poet visits Smithdon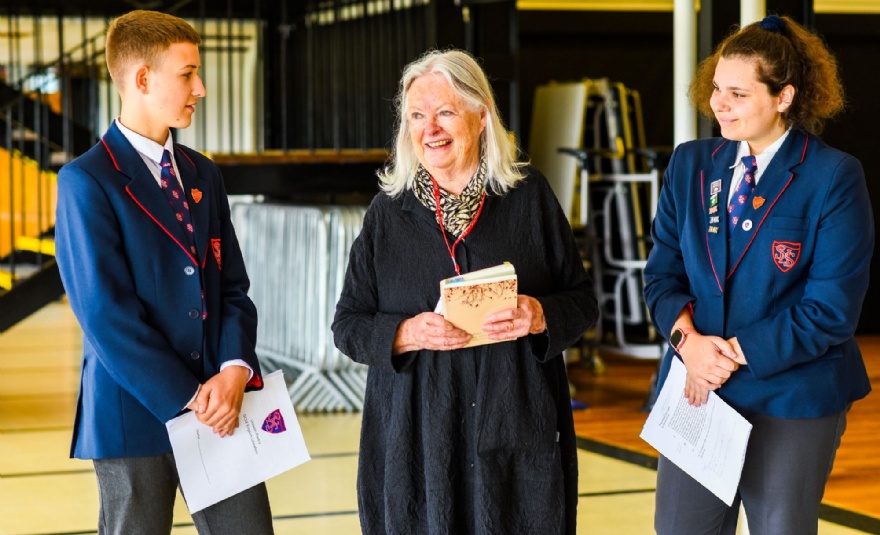 Our students have been given tips and advice for their exams from one of Wales' most influential poets.
Gillian Clarke, who was the National Poet for Wales between 2008-2016, visited our school and read to around 300 students in the school hall.
The visit marked the first time she had been back in a school following the relaxation of covid restrictions.
With her work featuring on the GCSE and A-Level exam syllabus, Gillian was able to pass on excellent advice on how to approach studying poetry during her visit.
She said: "I was asked to read and talk about one of my poems, 'The Habit of Light', as an example of the 'unseen poem' question in the exam.
"I began by warning them against using the internet. Its advice is rubbish! Trust yourself. Read, re-read. Hear the word-music."
Gillian was interviewed for the school magazine by four of our students.
She said they were "excellent" and had prepared their questions well.
"Being back in school was marvellous - I love working with teenagers," she said.
"For the past thirty years I have read on stage with Poetry Live for GCSE students.
"I learn from students too. In a poem about the birth of my daughter, 'Catrin', I describe the umbilical cord as 'the tight red rope of love.'
"A boy in the audience asked: 'Could it be the chain of DNA between mother and child?'
"Brilliant thinking! I had not thought of it, but there it was, in the words. That's the way to an A*."
Gillian said it is important to engage young people in poetry as it is the "most accessible of the arts" - free to read and write.
She added: "It is made out of the stuff in our own heads. We all feel love, loss, grief, rage, jealousy, joy, heartbreak.
"There are beautiful poems for all experience. Read those, and write your own.
"Whatever you feel, write about it, share it with a friend. You'd be surprised how many people write secretly.
"I know many poems by heart, and sometimes, when I can't sleep I see how far I can get with, say Keats' Ode to a Nightingale - or maybe a much less famous, less posh poem."
When it comes to her advice to young people about studying or writing poetry, Gillian said to never forget it is "word-music".
"Try to hear that music before speaking about 'understanding' it," she said.
"All you need to do is read the poem out loud or aloud in your head. Read it again. Listen. Bring your heart, mind and experience to it.
"It is all in the words."
Amanda Wright, head of English, said: "We were delighted to welcome Gillian to Smithdon, her verse and advice captivated the hall.
"She echoed our advice to students: write confidently about what resonates."
Head of school Amanda Gibbins said: "It was a great privilege to have such a renowned poet to make the time to visit our school and fantastic to see a prestigious speaker back in school directly addressing the students live.
"The students really appreciated the visit and had a very real and personal insight into the poem they are studying."