Matilda musical proves a hit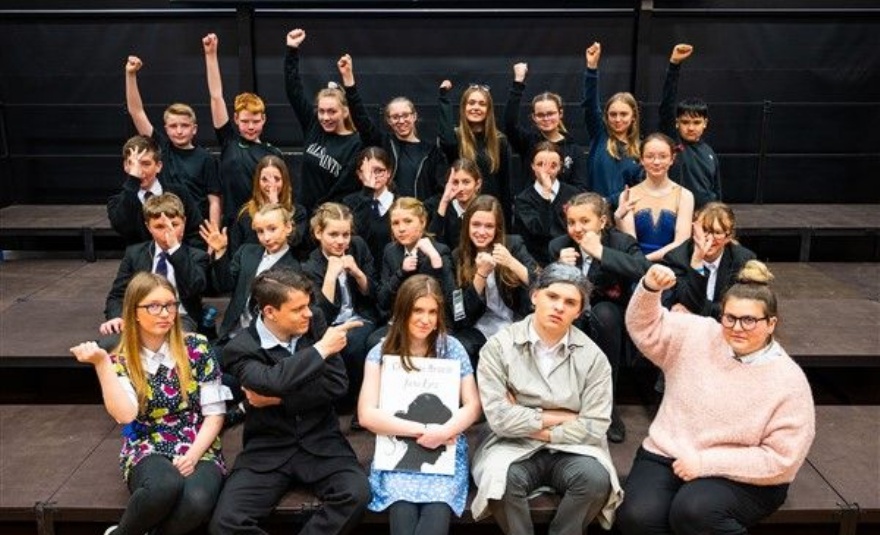 Young performers brought a taste of the West End to Smithdon with their performances of a specially adapted version of the hit musical Matilda.
The show, Matilda Jr, is based on Tim Minchin's adaptation of Roald Dahl's tale of a young girl with a lively imagination who uses her gifts to overcome a world of oppressive adults, and proved a popular hit with the family and friends who came to see the performances.

"Matilda has just been released through the company who we get our rights from for shows and as soon as it came up we knew that it was the one we wanted to do," said Andrea Miller, Smithdon's head of music.

The West End show is musically and theatrically complex, with some dark themes, so adaptations have been made for the schools version.

"These shows are shorter so they remove some of the plot and stick with the main story line, as well as sometimes taking out less age-appropriate content, but the production comes with things like backing tracks and choreography videos, which really help with staging," she explained.

Last year the pandemic meant Smithdon could not stage a production, so when Matilda was announced, there was a big surge in interest.

"We really wanted to add an extra element to the show so we tried to incorporate a lot more choreography which really elevated the performance," Miller explained.

"We ended up with 22 pupils from Years 7 to 11 involved, five backstage crews, three on the technical side and about eight on front of house, across the two performances. Drama teachers Vicky Proctor and Kayleigh Brown were the director and choreographer, and I was director of music. Laura Ruskin, one of our art teachers, made some great props, so it looked as well as sounded great."

Smithdon places great emphasis on the importance of teaching the arts.

"Even in lockdown we tried to continue doing virtual concerts and now things are opening up again, we're so excited to welcome people back for performances," said Miller.

"We regularly have concerts, recitals and showcases and we have some sort of music, drama or dance club on almost every day of the school week."

After so long being denied the chance to gather for performances, the show got a predictably warm reception.

"Many people said it was the best show we've done yet and they were thrilled to be able to be in the school, watching their children perform. There were a lot of thank yous to be said afterwards, because it doesn't happen without the dedication of all the staff and pupils who took part."

No sooner has one show finished than planning for the next one starts, with the end of the year pencilled in for the performances.

"Let's just say we hope that it's a Bullseye and that you will consider yourself part of the audience," said Ms Miller.
More photos of the performance can be found here.