Prize giving returns after three years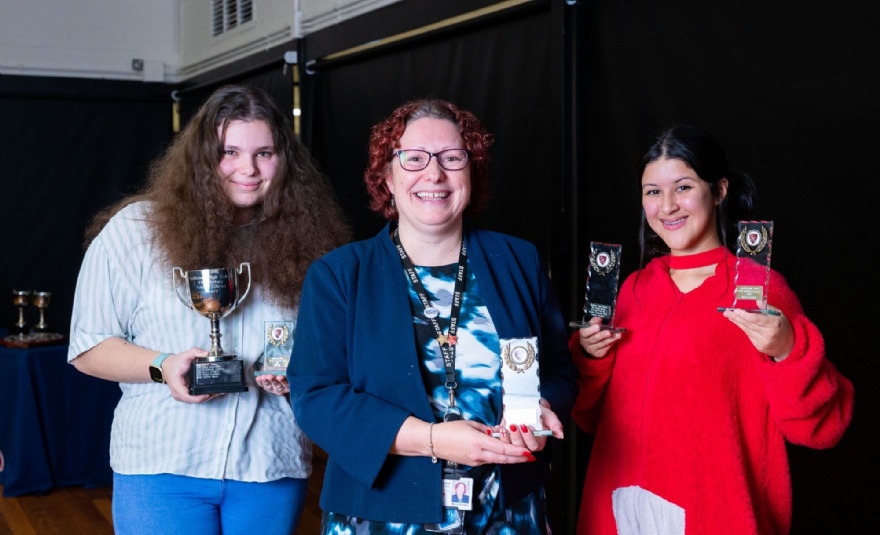 There were celebrations all round at our first prize giving event for three years.
Our Year 11 Prize Presentation and GCSE Certificate Evening celebrated the achievements of last year's GCSE students in a ceremony attended by around 200 people.
Assistant Headteacher Steve Chapman said: "The school was proud to present the GCSE certificates and awards to their students, as they thoroughly deserved recognition for their hard work and achievements, which have allowed them to go onto a wide range of educational and training opportunities."
As well as students from the Class of 2022 and their parents, attendees included staff and governors, representatives from Hunstanton Town Council and the Hunstanton Heritage Centre and members of Hunstanton and District Rotary Club.
Hunstanton's Mayor, Maureen Howard, was on hand to give out the students' GCSE exam board certificates, while Headteacher Amanda Gibbins presented 20 subject awards.
Mr Chapman explained: "The subject awards were based on nominations from subject staff, and each award winner received a glass trophy, which included a plaque with details of their award.
"Notable winners included Lindsey Guardado, who won awards for Spanish, Health and Social Care, and the Connie Martin Memorial Prize for English Literature; Nathan Croasdale, who won the subject awards for Chemistry and German, as well as an award for overall achievement; and Daniel Cook, who also won an award for overall achievement, as well as the Halls Exhibition Foundation Endowed Prize for Mathematics."
"A number of special and sponsored awards were also presented," Mr Chapman continued.
"The Hunstanton Lions Prize for Service to the School and its Community went to former Head Boy, Theophilus Bazeley-Smith, whose studies prevented him from being there, but who sent a video that played during the presentation.
"The George Raines Memorial Award for Sport was awarded to Caitlin Jacob for her superb contribution to the PE department.
"The current President of Hunstanton and District Rotary Club, John Greyson, presented the Rotary Young Citizen Award, which went to former Head Girl, Caitlin Wagg, as well as the Rotary Award for School Values.
"This went to Jessica Ferguson, who always demonstrated the school values of 'Work Hard, Be Kind and Smile'."
The evening was brought to a close with a speech by our Chair of Governors, John Crofts, who congratulated all the students on their successes.
---
For more photos click here.
---
For more articles:
Lynn News - By Jeremy Ransome - jeremy.ransome@iliffepublishing.co.uk - Published: 08 December 2022
First prize giving event in three years at Hunstanton's Smithdon High School