Christmas concert at Smithdon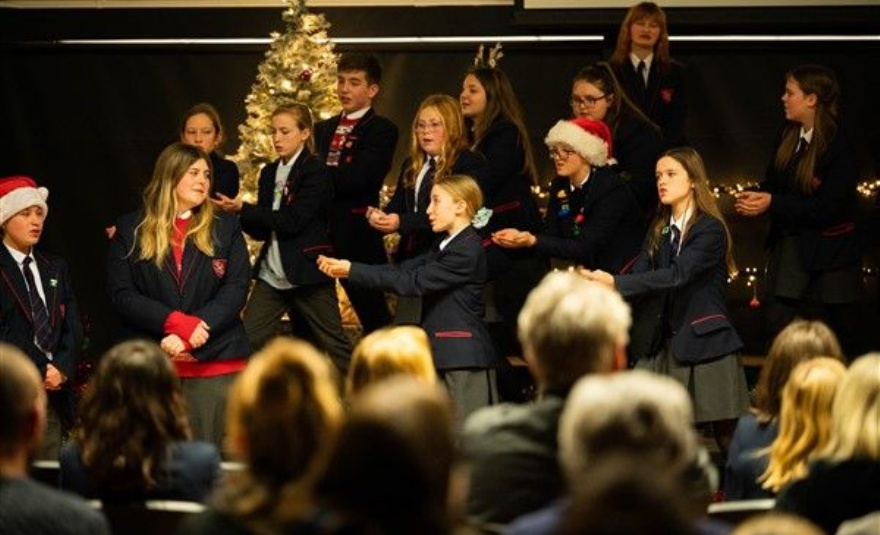 The festive season is officially underway in Hunstanton, as Smithdon students of all ages kicked off the celebrations with our Christmas concert.
The annual event at our school, which is a member of the West Norfolk Academies Trust, included a range of Christmas-themed performances and took place on site for the first time.
Music Lead Andrea Miller said: "Every year we host an annual Christmas Concert as part of our yearly performances. The Christmas Concert is an event that focuses on the joy of the holiday season, with a variety of Christmas-themed performances.
"In the past, we have had them in the church, then virtually during Covid, but this year we hosted it at Smithdon. In my time as music teacher over the past five years, our Christmas concerts have continued to become bigger and brighter.
"Approximately 60 Smithdon students took part this year, as well as an additional 10 from the primary schools who play in our Junior Orchestra."
Highlights of the evening included performances from the school's Years 7/8 and 9/10 Ukulele Clubs, Year 7/8/11 and Year 9/10 choirs, the Junior Orchestra, a whole-school choir, and the cast of Oliver Jr The Musical, as well as student solos and duets, and the Drama Club's presentation of Twas the Night Before Christmas.
Refreshments were available, and, although entry to the event was free, attendees were encouraged to bring donations for the local food bank.
"Many of our ensembles started rehearsing for this concert back at the beginning of October, so that they would be prepared to give the best performance," continued Miss Miller, who organised the event with the help and support of the school's Drama Department.
"Students believe these events to be very important, as they give an opportunity to show off all of the work done in our co-curricular clubs and independently, while also developing confidence as performers.
"In my opinion as a music teacher, they bring a sense of community to the school, as students from all years come together to perform and celebrate. There are often those 'stand-out' children who in other instances are quiet, and we suddenly get to see them blossom as they perform.
"Events like these are valued by our leadership at the school, and we hope to use these to continue to develop our ties within our West Norfolk community. The Christmas Concert is one of my favourite events of the year – it's a nice way to bring in the festive season at Smithdon."
For photos of the performance click here.