Smithdon students celebrate in blaze of glory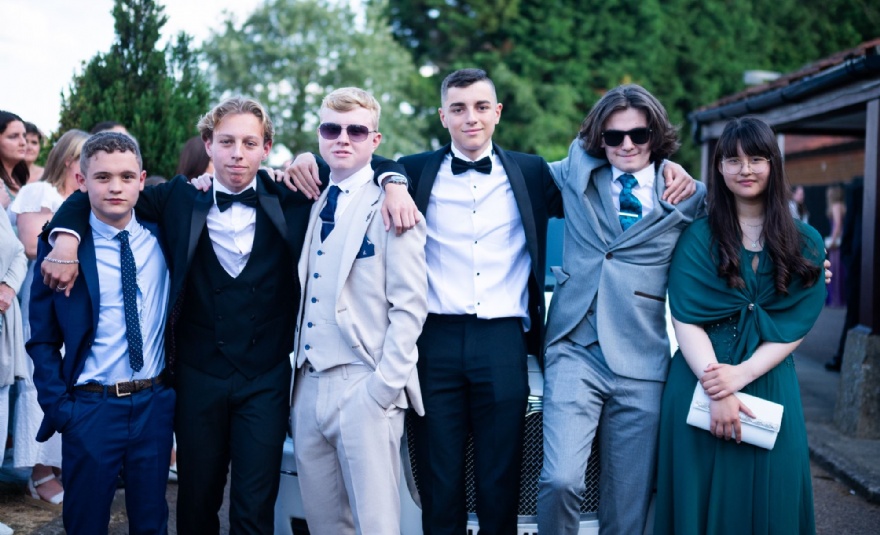 There was much excitement when a fire engine drew up outside Knight's Hill Hotel in King's Lynn – but, fortunately, it hadn't been summoned to tackle a blaze.
Instead, the emergency vehicle was there to help deliver our Year 11 leavers to this year's Prom in eye-catching style, with other conveyances including motorbikes, limousines, and even a tractor.
Friends and family were there to greet the Class of 2023, who arrived at the hotel in sparkling form, wearing a range of evening dress, from suits and cocktail dresses to full-length gowns.
A yellow-and-white colour scheme had been chosen by the Year 11 Leadership Team, and tables at the venue were decorated with yellow and white balloons.
Ninety-three students attended the event, where they were joined by many of their teachers, who were keen to celebrate the students' success.
The evening featured a three-course meal and a disco, as well as a sweet cart loaded with traditional confectionery, and a photo booth, which allowed the party-goers to commemorate the occasion.
"It was great to celebrate our students' end of schooling at Smithdon High School," said Steve Chapman, Assistant Head.
Photos of the prom can be found here.