Congratulations to our Handmade Treasures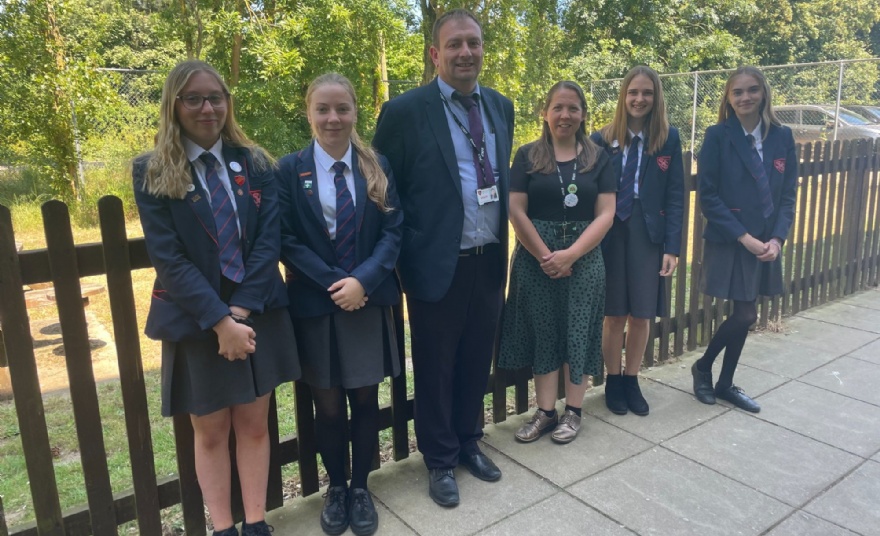 Customisable Christmas decorations and an Easter bunny containing a chocolate egg won an award for the entrepreneurial students at our school.
The group of nine Year 10 students set up their company, Homemade Treasures, under the Young Enterprise Scheme, winning a Sustainability Award for their innovative ideas.
Supported by Assistant Headteacher Steve Chapman and Hospitality and Catering teacher Rebecca Dibble, the team also gained valuable help from John Crofts, the school's Chair of Governors.
"They must set up a board of directors, produce, market and sell their product, as well as keeping accounts," said Mr Chapman.
"Through initial board meetings in September, they discussed ideas for things they could make. They wanted to create a physical product, but one with unique features that people could keep.
"With Christmas coming up, they decided to make wooden decorations with kits that customers could use to create personalised decorations. At Easter they made cardboard rabbits with a chocolate egg inside so customers could personalise the cardboard wrapper."
Despite none of the group having studied design and technology, they received tuition from teacher Alix Birks and learnt to use a laser cutter to create wooden stars, Christmas trees and reindeer for their kits, using money raised through selling shares in their company to purchase materials.
They created their own logo, then marketed their products at events such as Smithdon's Christmas Concert, the school's production of Oliver, and sold their designs to friends, family and the public.
When it came to the regional final of the Young Enterprise competition for Norfolk and Suffolk, six of the students gave a presentation about Home Treasures, including finance director Ellakha Mitchell, marketing manager Ffion Greeves and managing director Mia Jackson.
"They had four minutes to tell their story in front of other finalists and judges in the UEA Business School," said Mr Chapman.
"The group won the Sustainability Award, as their Christmas product was made from wood and it can be used again and the cardboard box and tissue packaging could either be used again or recycled."
"Students and staff were delighted to win an award, as they felt it recognised their hard work and effort," he continued. They feel they have learnt a lot about running a company, and also learnt to work as a team and have developed important inter-personal skills."
Their success means we are planning on repeating the experience.