All welcome at Smithdon Christmas Concert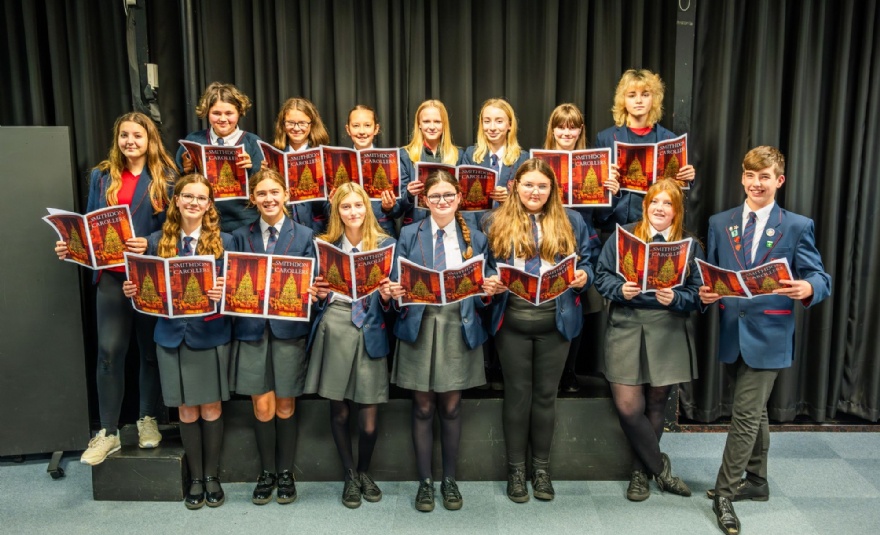 The Hunstanton community is invited to get into the festive spirit with our free Christmas concert, which features a host of seasonal classics, from traditional carols to more modern favourites.
The Smithdon High School Annual Christmas Concert takes place at Hunstanton Town Hall on Thursday 7 December, and stars talented students from every year group across our school, with around 60 taking part in the performance.

Highlights include the Ukulele Club's rendition of Justin Bieber's 'Mistletoe', and a Year 7 performance of 'Merry Xmas Everybody' by Slade, along with a selection of Christmas carols and more modern offerings from the Smithdon choir.

There is also a sneak preview of our upcoming musical, Frozen Jr, which will be taking place later in the month.

"We have students participating from every year group," said Andrea Miller, Musical Director of the concert and Music Lead at Smithdon, which is a member of the West Norfolk Academies Trust. "Some of our groups started practising as early as September.

"We have a brand new Year 7 Band, which we are all really excited to see perform and should be a lot of fun. We are also pulling in some more traditional carols this year with the choir, which will be a lovely addition."

The family-friendly event takes place at 6pm, and is open to all.

"We would love nothing more than to welcome as much of the community as possible, which is part of the reason we are doing it at the Town Hall this year, in the hope of drawing more people in," continued Miss Miller.

"There is no cost for tickets, but we will be accepting donations upon entry and at the refreshments table, where the refreshments are being made by our school catering club. These donations go towards helping to improve our Arts provision here at Smithdon."

"Events like this are incredibly important to Smithdon," she added. "They give our students an immense sense of pride in themselves when they are able to get on stage and perform.

"It allows parents to see all of the hard work that our students have done, and it allows the community to see the amazing work that is happening here at Smithdon, and how great our kids are."

The Smithdon Christmas Concert takes place at 6pm on 7 December at Hunstanton Town Hall. Entry is by donation.