Smithdon Undergoes Lockdown Makeover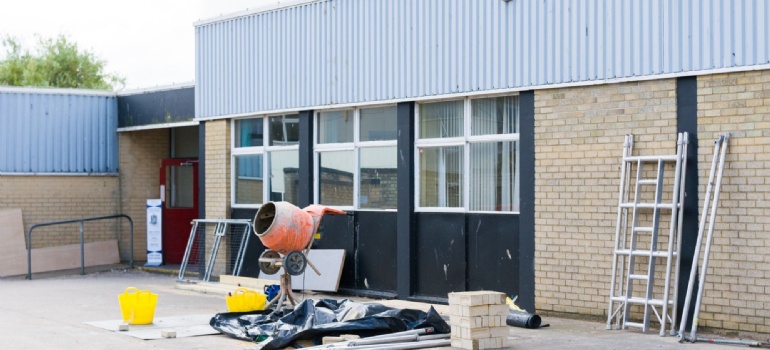 School uses shutdown as a chance to make improvements
The shutdown enforced by the novel coronavirus outbreak means it may be some time since our pupils saw the place, and they could be forgiven for not recognising it when they return in September after a major overhaul of its distinctive buildings, both inside and out.

Our school is one of the most architecturally important schools in the country, being the birthplace of the so-called Brutalist style of architecture after World War II, with glass and steel replacing traditional bricks and mortar.

During shutdown, around one million pounds has been spent updating and improving facilities across Smithdon. The food technology area, two classrooms, two ICT suites and two art rooms have been given a complete makeover, as well as pastoral and administrative offices. In addition, a large conference room, teaching space and art exhibition area have all been created and new roofs put on buildings.

Headteacher John Hirst said: "We know Smithdon is already a very distinctive-looking place but we're really excited about how we've transformed it, to make it even more forward-looking and aspirational.

"We want to make a visual statement that our school is an exciting, dynamic place to be, and this positivity is reflected not just in the quality of the facilities and buildings, but the teaching as well.

"I'm particularly excited about C Block, where the art studios are. For a long time it's been too hot in the summer and too cold in winter, but we've given it a complete overhaul, with new windows, flooring, insulation, light and heating, as well as a fresh coat of paint.

"With the transformation of C Block, a new roof and a complete new floor in the sports hall, this is the most significant investment in the school in a very long time.

"When the school was built, its architectural style was pointing the way to the future, so it seems particularly appropriate that after such a time of disruption, this overhaul is making the school, and our art studio in particular, somewhere that once again looks to the future."

Mr Hirst is thrilled by how much change had happened to set Smithdon up for a new era. He continued: "We now have 21st century facilities to go with a 21st century curriculum, and some great new appointments coming up.

"This is the start of a very exciting era for Smithdon so we can't wait to show off to people how the place looks, and we're planning open activities in October, both virtual and face-to-face, so please get in touch if you'd like to come along."

As part of the overhaul, we will be renaming our buildings, which currently have alphabetical designations, after figures from its history, with the exception of the art block, where a competition has been held to choose a name representing the school's future.

Watch the progress of the refurbishment and find out more about open events, please visit the Smithdon High website or follow @Smithdon_High.