Norfolk MP gives Smithdon glowing end-of-year report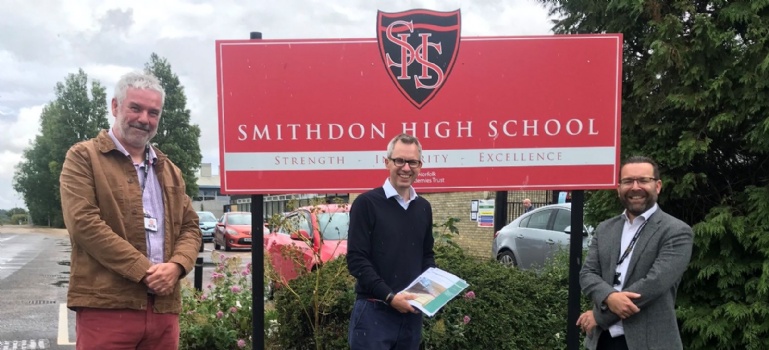 Improvements could herald more investment at Smithdon
The current refurbishment of our school could be a sign of things to come after James Wild MP visited on Friday last week to see the extensive work that has been carried out during lockdown.
After being impressed by what he saw during his visit to the school, we hope the Conservative member for North West Norfolk will support our vision for significant redevelopment and investment on our site, and raise the issue in Parliament and with the Education Secretary - perhaps even persuading Gavin Williamson to visit our school.

"It was a pleasure to visit Smithdon High School and hear about the progress the pupils are making academically and through extra-curricular activists to realise their potential," James Wild MP said during his visit.

"Education is key to opportunity and the school's ethos is all about giving young people chances to learn and develop and be successful. Now we can look forward to schools reopening fully in September and young people learning once again."

During new head John Hirst's first year in charge, Smithdon has undergone a transformation in the classroom and in the facilities, which have had an instant, visible impact on raising morale and standards throughout the school.

Our school is well known in the world of architecture as a prominent example of the post-war brutalist style, and around one million pounds in SCA funding has been spent giving its distinctive look a facelift, to create a dynamic, forward-looking learning environment.

Art studios, two ICT suites, a food technology area, the sports hall and other facilities have all been transformed, as well as new roofs put on buildings throughout the school.

We can't wait to have people come and see all the improvements we've made. In October we're planning open activities, and we look forward to welcoming more visitors then, so they can be like Mr Wild and see all the good work we're doing.

For more information about Smithdon, including watching the progress of the refurbishment and to find out more about open events, please visit the Smithdon High website or follow @Smithdon_High.