High Sheriff Visits Our school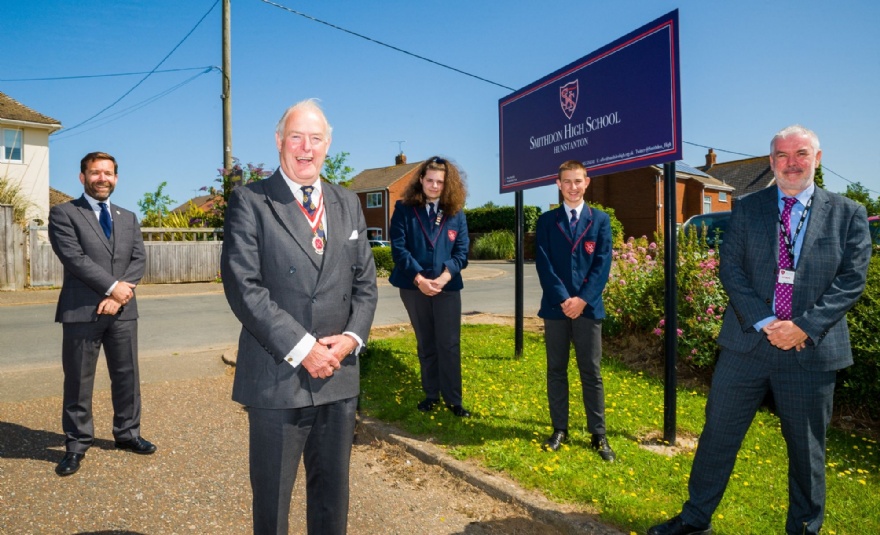 Students, teachers and school staff at our school were delighted to welcome a very special visitor through the gates during the last few days of term.
The High Sheriff of Norfolk, Michael Gurney, visited Smithdon High as part of his county tour of schools to discover the impact of the pandemic on education.
Mr Gurney, who lives near Cromer and is also a Deputy Lieutenant for Norfolk, was accompanied by Andy Johnson, executive head teacher of the West Norfolk Academies Trust, of which we are part of, during his visit which started at our sister school St Clement's in Terrington St Clement before he then went to Smithdon to continue his education tour on Friday (16 July).
"We were delighted to welcome Mr Gurney to our schools and he was very interested to discover how we had been affected by the pandemic over the last year," said Mr Johnson.
"He contacted the trust earlier in the summer and wanted to include our schools within a number he has been visiting around the county in recent weeks," he added.
"The children and staff had a good chat with Michael regarding the impact of the pandemic, how schools have found solutions and how we are going to move forward."
Mr Gurney thanked everyone at the trust and both schools for 'being so welcoming and helpful.'
"Thank you to all the teachers for all you are doing to inspire the young and keep everyone safe," he posted on social media after the visit.
He was keen to discover if there was any help that schools required as a direct result of the COVID-19 virus and the disruption it may have caused.
As a High Sheriff, Mr Gurney is appointed on a non-political basis for a year to support the Crown and the judiciary. The role has also evolved to support and encourage a range of bodies, including those in the voluntary sector. Historically he would have been responsible, on behalf of the monarch, to maintain law and order and collect taxes.
He is a former soldier, having been commissioned into the Blues and Royals in 1973 and served around the world. As a deputy lieutenant for Norfolk, he supports the work of the county's lord-lieutenant Lady Dannatt.